Zoeller M53 Most Highly Rated Sump Pump with Consumer and Plumber.

NAVIGATION
1. TOP MENU navigates to other pages on this website.
2. PAGE MENU navigates to topics on this page; click the box PAGE MENU to see Pop-Up Menu showing topics covered on this page; X closes it.
Why Is The Zoeller M53 Most Highly Rated?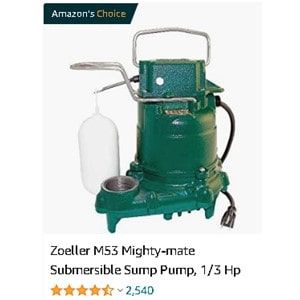 A review of the Zoeller M53 Mighty Mate reveals it has all of the key product features and specifications so important for a quality, durable and high performing primary submersible sump pump.
A review of the following information will help you discover for yourself what makes the M53 Mighty Mate Submersible Sump Pump so highly rated.
Table Of Contents
Product Features Summary M53 Mighty Mate Submersible Sump Pump
Zoeller M53 Sump Pump is built with quality.
♦
Zoeller is the oldest sump pump manufacturer in the USA. It had its humble beginnings in 1939 as a family owned operation making various products, one of which was the pedestal (also known as column) sump pump.
♦
Zoeller pumps are manufactured and assembled in the USA.
♦
All Zoeller pumps are tested before leaving the shop. In fact Zoeller uses two tests for each pump. Each pump is tested for leaks and then for its pumping performance to make sure it meet the published pump performance curve. We know of no other company that tests each pump twice. This definitely ensures a pump will work when installed.
♦
High quality epoxy coated cast iron is used for the motor and pump housing and switch case. This protects again corrosion.
♦
Shaft seal is carbon and ceramic.
♦
The upper and lower bearings are sleeve bearings.
♦
The motor is permanently oil-filled, hermetically-sealed with built-in automatic reset thermal overload.
♦
Screws, switch arm, guard and handle are stainless steel.
♦
The ring between the motor and pump housing is a watertight, neoprene square.
♦
The impeller made of engineered, glass filled plastic is reinforced with a metal insert.
The M53 Mighty Mate Is Durable.
♦
The 2-pole vertical float is solid, buoyant, polypropylene. Punctures will not affect it.
♦
Nothing will rust. The cast iron housing is epoxy coated. Sheet metal is not used since it rusts.
♦
All bearings are permanently sealed and oiled.
♦
A watertight, neoprene square ring prevents housing leaks.
♦
The four pole motor reduces the amount of revolutions required. Most motors are two pole and must revolve twice as fast to achieve the same results.
The High-Performing Zoeller M53 1/3 Horsepower Sump Pump
♦
The 3/10 HP pumping capability is comparable to most competitors 1/2 horse power pumps because Zoeller motors are very efficient. They are not canned motors with a housing slide into another pump housing. Zoeller motors are built directly in the pump housing. This aids in dissipating heat and thus reduces overheating.
♦
The impeller is a vortex style allowing solids up to 1/2 inch (13 mm) to pass through thus eliminating the pumping slow down because of screen clogging.
♦
The float movement is very slight since it is two-poled. This eliminates the need for the float to move up and down several inches. Because the float is two it is not likely to stick, instead its two pole friction can wear out due to the high level of friction during continuous pumping.
Manufacturers Product Description
Zoeller Pump Manufacturer provides the following Product Description for the M53 Mighty Mate.
The Float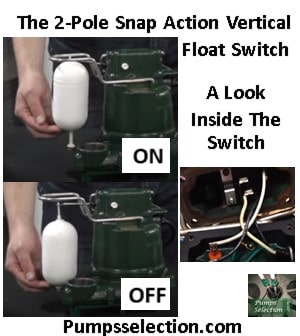 Float-operated switch which closes the electrical circuit and runs the pump,
♦
2-pole mechanical switch
♦
Solid, buoyant, polypropylene float
♦
ON point: 7-1/4 inches (18 cm) Off point: 3 inches (8 cm)
Material Used
♦
Cast iron switch case, motor and pump housing
♦
Engineered thermoplastic base
♦
Corrosion-resistant with powder-coated epoxy finish
♦
Engineered, glass-filled, plastic impeller with metal insert
♦
Sheet metal parts to rust or corrode
♦
Stainless steel screws, switch arm, guard and handle
♦
Watertight, neoprene square ring between motor and pump housing
♦
Oil-filled, hermetically-sealed
♦
Upper and lower sleeve bearings running in bath of oil
♦
Carbon and ceramic shaft seal
Solids Handling Design
♦
Passes 1/2" (13 mm) spherical solids
Measurements
♦
Major height: 10-1/16 inches (25.6 cm)>
♦
Major width: 10-3/32 inches (26.2 cm)
♦
RPM (Revolutions per minute): 1550 RPM
♦
Maximum temperature for effluent or dewatering: 130° F (54° C); automatic reset thermal overload protected motor
♦
1-1/2 inch NPT discharge
What Do The M53 Mighty Mate Product Specifications Mean?
♦
The
pump housing
is cast iron which is extremely durable and is not affected by continuous, heavy duty pumping.
♦
The
vertical sump pump float switch
, protected by a guard which keeps it from getting caught on the pit wall, design is superior in that its vertical movement is slight before the switch activates eliminating the problem of float movement and lack of circuit connection.
♦
This 1/3 HP pump, because of
motor efficiency
, can pump as much water as a 1/2 HP made by other manufacturers. It pumps 2580 GPH at 5& foot lift and 2040 GPH at 10 feet.
Manufacturers Reported Pumping Performance Flow Rate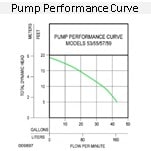 Zoeller Pump Manufacturer provides the following Pumping Performance Flow Rate Specifications.
♦
At Five Feet (1.5 Meters) Lift M53 pumps 43 GPM 163 Liters GPM - 2580 GPH 9780 Liters.
♦
At Ten Feet (3 Meters) Lift it pumps 34 GPM 129 Liters GPM - 2040 GPH 7740 Liters.
♦
At Fifteen Feet (4.6 Meters) Lift M53 pumps 19 GPM 72 Liters GPM - 1140 GPH 4320 Liters.
♦
The Maximum Head height including elbow friction is 19 Feet.
♦
The Maximum Flow Rate is 43 GPM
Benefits Of Owning A Zoeller M53 Mighty Mate
M53 has quality features and is a work horse for homeowners with an average amount of water during a heavy rainstorm.
This sump pump is built to last for average water conditions. This pump is cast iron - pump housing. The volute is engineered plastic and the impeller is glass-filled with a metal insert to provide additional strength.
This sump pump will not clog. It has a vortex impeller design which prevents clogging. It is also build to pass 1/2 inch spherical solids. Many competitive brands do not provide this feature. It has no screen to clog.
The vertical float switch assembly is encased in cast iron. The float is buoyant and made of polypropylene, solid and made to last. Like any other sump pump the switch will not last forever and needs to be changed every 2-3 years depending upon amount of usage. The design of the float switch decreases its tendency to get hung up.
The 1/3 HP efficient motor is powerful. It can pump 43 gallons per minute (or 2,580 GPH) at 5 foot lift and 34 gallons per minute at 10 foot lift (or 2,040 GPH). It has a greater pumping capacity than competitor 1/2 HP brands. Maximum head it will operate at is 19.25 feet.
The motor is 60 Hz, 1725 RPM, oil-filled, hermetically sealed, has automatic reset thermal overload protection. Voltage is 115V. Amps rating 9.7. The sleeve bearings run in a bath of oil. It has a carbon and ceramic shaft seal. It can handle a maximum temperature of 130 degrees F.
The screws, bolts, pump handle, guard, arm, and seal assembly are stainless steel. The cord is 9 foot, UL Listed 1-wire neoprene cord and plug.
The size of the pump is a smaller footprint with height of 10 1/16 inches and maximum diameter of 10 3/32 inches. It will easily fit into an 18 inch diameter pit along with a backup sump pump.
Back to Zoeller M53 topics index.
How Does The M53 Mighty Mate Price Compare?
As for the cost, the price is very competitive with other name brand pumps of same pumping capacity. In fact Zoeller is a better deal since it has more quality features. A glass filled metal insert in the impeller, the non-clog vortex impeller, solid vertical float system are some of the examples of additional quality.
The cost of the pump is somewhere around $200. This is a good deal!
What Can We Learn From Consumer Product Ratings?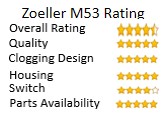 Consumers give the M53 Mighty Mate a well above average rating (4.6 stars in a 5 Star Rating Scale) as a submersible sump pump selection. Of the over four hundred online consumer reviews, 86% of consumers rated it 4 stars and above with 76% giving it 5-stars.
14% rated it 3 stars or lower. The most common reason for a lower rating was because of float switch failure. The switch and gasket last somewhere between three and eight years depending upon usage and pit conditions. The float is puncture proof and therefore cannot fail because of filling with water. The switch will fail after so many uses. It is best to change the switch between three and five years. The switch costs around $30 and is easy to replace.
The pump is not light - twenty-one pounds. The weight prevents the pump from moving around during operation. It may take some effort to remove it from the pit when replacing the switch.
The solids handling design is good. There is no bottom or top screen to remove. The impeller is made to handle up to 1/2 inch solids. If you have a pit frequently filled with debris, it is recommended you remove the base of the pump periodically to check on the impellers free movement; otherwise cleaning should not be necessary. When checking the impeller also check the two small holes by the impeller and the discharge port to make sure they are not clogged. Clogged holes could cause an airlock which means the impeller would move freely but the air pocket would prevent the pushing of the water.
What Does A Plumber Say About The M53 Mighty Mate Submersible Sump Pump?
Here is the testimony of Barry Schilling who is a plumber for USA Seepage. He certainly believes in the reliability of the Zoeller M53.
How To Install The Zoeller M53 In 10 Easy Steps
Here are the Ten Simple Steps to installing the Zoeller Mighty Mate M53.
1. Unplug the old pump. Remove it from the sump pit.
2. Clean the bottom of the pit removing sludge and debris.
3. Remove the new M53 from the carton.
4. Place a fitting coupler into the pumps 1 1/2 inch discharge port.
5. Sit the pump in the pit so it rests solidly on the pit floor.
6. Determine length vertical PVC discharge pipe needs to be. Mark where it should be cut and remove excess length or if necessary add a new length of PVC to make the discharge pipe long enough.
7. Seat the PVC discharge piping into the check valve union. It is always best to install a new check valve.
8. Plug in the M53 to test for operation and potential leaks.
9. Tighten fittings where there may be leaks.
10. You are done. Expect the Zoeller M53 to provide you with many years of service.
Installing The Zoeller M53 Is Easy. Watch An Installation
We are also providing a video made by Chris from Atlantic Drain. Watching the installation of the M53 submersible sump pump will give you the extra support you may need so you have the confidence to install it yourself. Installing the M53 really is easy.
FAQ Frequently Asked Questions About Zoeller M53
Can I use this pump outdoors?
--> Yes. This pumps electrical mechanisms are waterproof. Make sure the electrical outlet is waterproofed and that the outdoor pump installation meets city standards.
Must I drill a hole in the discharge pipe for the pump?
--> Yes. It is recommended a 1/8 inch hole be drilled at a forty-five degree angle below the pit cover and check valve. Drilling the hole at the height of the top of the pump will work fine. The hole prevents air lock.
Will the M53 pumping performance meet my needs?
--> Know how much water needs to be pumped from the pit during a heavy rainstorm. Here's is how to determine if this pump will work for you. Measure the diameter of the sump pit at the top. Take a yardstick and put it in the pit during a heavy rainstorm. See how many inches the water rises during sixty seconds. If too much flows in, measure at 30 seconds and multiply the inches by two. For example, let's say 8 inches of water flow into your pit during the thirty second time period. Eight multiplied by 2 is sixteen. For an eighteen inch diameter pit, one inch equals one gallon. For a twenty-four inch diameter pit, one inch equals two gallons. So sixteen inches equals sixteen gallons a minute. Measure the vertical height of your discharge piping. Generally it will be somewhere around ten feet. At a ten foot vertical height, the M53 Mighty Mate is capable of pumping 34 (thirty-four) gallons per minute so the pump will easily handle the water flow into your pit during heavy rainstorms.
RELATED === >Learn More About How To Right Size Your Sump Pump
Zoeller M53 vs. Other Zoeller Sump Pump Models
Zoeller M53 is the automatic basic model of the M50 series. Manual models aer also available.
The M50 models series include M53, M55, M57 and M59.
All automatic M50 series models have:
♦
A two-pole mechanical vertical float with one and one-half inch discharge port
♦
Pumping performance of 2040 GPH performance at ten foot height with shut off height of nineteen and one-fourth feet.
♦
Cast iron is used for the motor housing which is very unique to Zoeller. It adds an additional way to dissipate motor heat.
M53 vs M55
Comparing M53 to M55 reveals M53 uses cast iron housing whereas M55 has bronze housing. Both M53 and M55 have a thermoplastic base (volute), and glass filled with metal insert impeller. Bronze is superior to cast iron for durability; however, bronze costs six times more than cast iron.
M53 vs M57

Comparing M53 to M57 reveals both models have cast iron housing; however M57 has a cast iron base (volute) and cast iron impeller for greater durability.
M53 vs M59
Comparing M53 to M59 reveals M59 has bronze housing, bronze base, and bronze impeller. M59 is more durable and made for much more heavy continuous usage. Compared to M53 it costs nine times as much.
M50 Series Automatic vs. Manual
The manual (non-automatic) models of the 50 series have the same construction material as their automatic models. The only difference is the non-automatic comes without a float and switch.
M53 vs. M63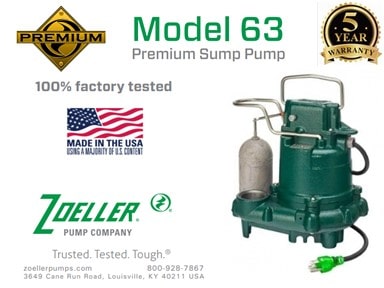 M63 is the upgraded model of M53. It has the following upgrades.
♦
Cast iron base *volute) and cast iron impeller
♦
Advanced switch technology to reduce the effect of friction when current jumps from the positive to negative to close the circuit and run the pump
♦
A Viton boot to protect switch from possible moisture when gasket wears.
♦
Extra heavy duty rubber power cord and connection protection
♦
An LED lighted plug showing power is available to the pump
M53 vs. M98
Comparing model M55 to M98 reverals the material used for the various parts is the same. The only difference is the pumping performance. M98 pumps 3660 GPH at a ten foot height and has a shut off height twenty three feet.
Read Some Consumer Reviews For The Zoeller M53 Mighty Mate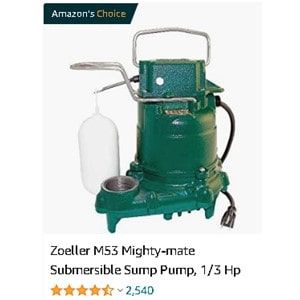 Here's what some consumers are saying about the Zoeller M53.
High Quality Pump, March 9, 2020
By Dustin J. Koberle
Finally had to replace my Zoeller M53-D pump after 12 years of service, actually I didn't really replace it I just bought another one, I will put a new switch in the old and keep as a spare. We have a very high water table here and the pump runs every 2-3 minutes most of the year. You won't find a much better pump out there that can run like this for 12 years and only need a $20 switch. Oil filled for long life, quiet and reliable. I'll never run anything other than Zoeller.
Excellent Product Buy With Valve, March 2, 2021
By Keith
I recommend buying the Zoeller M53 Mighty-mate Submersible Sump Pump, 1/3 HP with check valve if you are replacing your sump pump.
The valve keeps the water from backing up adding needed extra life and proper working order to the sump pump itself. I have had it now for 2 months, installed it myself and it was very easy to do (if you know what you are doing) and works problem free. I love the solid construction. Good buy for the money!
This is the sump pump standard, May 30, 2021
By JDB Contracting, Michigan
If you need a sump then the Zoeller M53 Mighty-mate submersible is what you want. I work in new construction and this pump goes in 99 out of 100 houses. I have never had a problem with it.
It pumps water from the sump with ease, March 25, 2014
By Scott T (Bellevue, WA) - I did a lot of research before I bought the Zoeller M53. This had the best reviews of all the pumps I looked at. So far it has been pumping the water from my underground sump with no problem. It pumps the water both quickly and quietly and is solidly built.
18 YEARS AND STILL GOING STRONG!!!, February 2, 2021
By Kevin Patteri
Well tonight I thought it was finally time to replace my sump pump (Zoeller M53) after 18 years! The float was sticking in the up position and it wasn't shutting off. Well after some messing with it the issue was a piece of debris stuck under the float so I moved it and now it's working fine. Don't go out and buy something from China from a local store, go with a Zoeller! Maybe it is time to replace it after 18 years but since it's working fine I think I'll just let it keep going! Really a quality product!
Great durable heavy duty pump, March 7, 2022
By Pete (Fairfield, CT)
I just installed the M53 today and it is working great, no surprise. My review is really on my great previous experience with the M57, and I hope to get the same out of this one. The M57 is identical to the M53 in specifications.
The new M53 is running like a champ already right now, and I'm hoping to get another 15 years out of this one!
Recommended Maintenance For The Zoeller M53 Sump Pump
The M53 Switch needs to be replaced every 3 - 5 years depending upon how often the pump runs. It is very easy to replace the switch using a screw driver.
Check the rubber boot/seal where the float lever enters the pump cap assembly because it will harden over time. Keeping this lubricated with a bit of silicone grease will help prevent or solve this problem. Do not use a petroleum based grease. If the rubber/boot seal does fail the cap assembly will need to be replaced for around $30 - part #004703.
Check the impeller periodically. Just remove the base of the pump (they are several screws to remove) and to scrape/clear out any built up debris or buildup, clear the area by the exit pipe and make sure the check valve operates properly.
Remember to check the air hole in the disccharge pipe. It can get plugged. If it is blocked it can cause air lock and the pump will run but pump no water. The hold can be cleared with a small name.
Performing periodic maintenance for Zoeller sump pumps is not unique to Zoeller. All sump pumps require periodic maintenance. In fact, sump pumps with bottom screens or top suction may require more maintenance. Keeping the screen clean can be challenging.
Easy Access To Zoeller M53 Sump Pump Parts
Available parts for the M53 submersible sump pump includes the float switch (part-no: 004892). This is good because the motor is built to outlast the float switch. In fact a float switch should be replaced every two to five years depending upon how often the sump pump runs.
Replacing the Zoeller M53 float switch is a perfect solution to a failed sump pump switch. It makes sense to replace the switch rather than throw the pump away because of the following reasons.
♦
The replacement part 004892 fits perfectly. It is manufactured by Zoeller.
♦
The switch is very easy to replace. The instructions are easy to follow.
♦
Zoeller Technical support is available to answer questions.
♦
A replacement switch is much cheaper than buying a new pump.
SHOP ZOELLER NON AUTOMATIC N53 AND OTHER ZOELLER MODEL SUBMERSIBLE SUMP PUMPS
SHOP ZOELLER M53 PARTS READILY AVAILABLE
WHAT NEXT
YES, NEXT I WANT TO?
THE HELPFUL PUMP PLACE where you can become an educated shopper. Review - Compare - Shop for the Best Water Pump For Your Water Pumping Needs.
Copyright All Rights Reserved
Find the best pump selection for your pumping needs today at lowest prices.
pumpsselection.com